Take a safari through Africa! Opened in 1995, the Zoo's African exhibit, unlike any other zoo exhibits in the Midwest, encompasses 95 acres of realistic scenery, expansive exhibits and more than 400 animals.

The first destination on the tour is the Okavango Delta in Botswana, where visitors encounter six female elephants roaming through a 4.5-acre exhibit with a pond, mudbaths, and natural landscaping. This elephant sanctuary, an authentic recreation of the grasslands of Botswana, has no bars separating these extraordinary creatures from spectators, allowing the enormity and reality of the massive pachyderms to be felt by all.

Crossing into Kenya, animal lovers gaze over a 17-acre plains exhibit filled with sable antelope, beisa oryx, impala and greater kudu. Surrounding the plains are exhibits which afford wonderful views of cheetah, lion, black rhino and hippo. Visitors can enjoy a breathtaking view of the plains on a safari boat ride which travels Lake Nakuru, or picnic in the treetops as giraffes forage for leaves at eye level.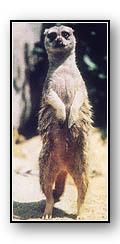 The Congolese Forest offers close encounters with leopard, bongo, and lowland gorillas. Tanzania is the next stop in Africa, showcasing the zoo's chimpanzee troupe. This exhibit is a favorite for many visitors who enjoy the interaction of the chimps frolicking on a hillside through a 40 foot viewing window.
The final stop in Africa is Uganda, where guests can view baboons, lemurs, jackals and Aldabra tortoise. The African journey begins and ends in the Nanyuki Market where guests can enjoy snacks at Tamu-Tamu, purchase souvenirs at the Equator gift shop or relax in the Rafaki restaurant.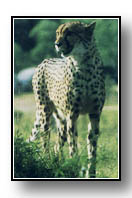 A favorite among children ever since the Lion King, the Zoo's meerkats are featured in Africa. Very vocal animals, one meerkat usually stands sentry to watch out for predators or other intruding meerkat groups.
The fastest of all land animals, the chettah can sprint up to 60 miles per hour. Thursday evening Sunset Safaris are an excellent time to see the cheetah when they are most active.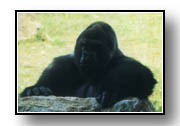 The Zoo is home to four male silverback gorillas. Guests enjoy observing the behavior of these massive animals, who are six times stronger than man.
The Zoo has enjoyed two giraffe births in the past 18 months, and guests delight in watching these graceful animals mature.